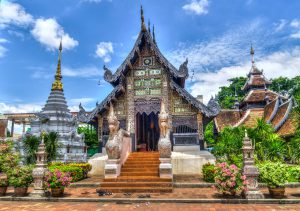 Teaching English abroad offers an opportunity to live and work in many countries around the world. English is the one of the most popular languages to study, and most countries have a shortage of native speakers who are available to teach. There's also the fact that many people who would be interested in teaching English abroad don't have a TEFL certificate. My TEFL offers numerous TEFL courses, both online and onsite.
The courses at My TEFL come with both a certificate and a letter of recommendation. There's a choice of four online courses:
The Basic online course is 40 hours long and costs $139. It teaches classroom management and curriculum planning, amongst other things.

The Intermediate course is 60 hours long and costs $189. It contains information on teaching reading, writing, listening, and speaking.

The 80-hour long Advanced course costs $249. It contains information on holding more advanced English courses, such as on teaching areas of grammar like verb tenses and time, modal verbs, and phonology.

The 120-hour Professional course costs $299. This is the course to take if you need an internationally recognized TEFL certificate in order to get a work permit. It contains everything that the other courses offer along with designing tests.                                                                                                                                                                                                                                                                        

Along with their online options, My TEFL also offers a number of classroom based courses in a number of countries. The courses last from 3-4 weeks and are held in Thailand, Spain, and Argentina. The 120-hour courses cost around $2000 and come with job placement assistance afterwards. The courses in Thailand are the most frequent, starting every month. The courses in Spain and Argentina start in January, March, April, and May. 

One thing which discourages many potential English teachers is not having a college degree. Some countries insist that you have a college degree along with a TEFL certificate to teach English. However, it is possible to teach without a degree in some countries. Also, gaining teaching experience can help you kick off a teaching career without a degree. My TEFL offers teach abroad programs the to graduates of its 120-hour courses.

The teach abroad internships are recommended to people who don't have a degree. They offer a choice between a 6-month paid internship in Thailand, 5-month internships in China and Argentina which come with a stipend, and a one-month volunteer internship in Africa which are open to graduates of the 120-hour course.

Lifetime job placement assistance is offered to their graduates in countries which include Korea, Colombia, Taiwan, or online.

Teaching English abroad is an excellent opportunity to see the world. It's a chance to use your foreign language skills in a country where the language is spoken, and one way how some permanent travelers fund their lifestyles.